New Jersey Schnauzer Rescue Network
Since its creation, NJSRN has had a single mission: Finding permanent, loving homes for Miniature Schnauzers and Schnauzer mixes throughout the northeastern United States.
As part of our mission, NJSRN provides charitable and educational services by:
Assessing each dog's potential for permanent placement;
Ensuring that a dog's veterinary needs are met;
Providing quality temporary (foster) care;
Making the best possible match between dog and adopter;
Providing follow-up information and training to adoptive families;
Promoting responsible dog ownership;
Educating potential and current Miniature Schnauzer owners about breed characteristics, proper care and nutrition, health issues, training, and behavior; and
Providing referrals only to Miniature Schnauzer breeders who promote responsible breeding, including performing basic health checks and screening for PRA.
NJSRN will never euthanize a dog that enters our rescue program because a permanent home is not readily available: we will keep the dog in our program until we find the right home. Because of age, illness, or other issues, we may decide to allow a dog to live out its life in foster care - as a permanent part of our rescue program - rather than placing it into an adoptive home.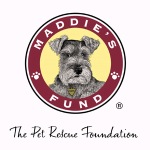 A generous grant from Maddie's Fund has helped NJSRN to save more lives.
A Huge Thank You to Maddie's Fund!

Foster Fun Day Made Possible by a Grant from Maddie's Fund
NJSRN is pleased to acknowledge receipt of a $1,000 grant from Maddie's Fund in 2015. This grant allowed NJSRN to host our first Foster Fun Day for members and foster home volunteers, a five-hour hands-on training session to introduce foster volunteers to positive reinforcement training and help them to be better prepared to address common challenges with foster dogs. Foster Fun Day offered practical techniques for introducing a foster dog to family members and pets; reading a dog's body language; dog fights and how to prevent them; identifying a foster dog's "triggers"; meeting strangers and dogs on walks; loose leash walking; wait at the door; and other useful tips.

Foster Fun Day is part of NJSRN's ongoing effort to strengthen our foster volunteer program and to educate and empower our foster homes so that our dogs are more adoptable and can be placed into permanent homes more quickly.

You can view a copy of our 2015 Annual Statistics Report to Maddie's Fund here.
NJSRN is a federally registered 501(c)(3) non-profit charitable organization. Financial and other information on NJSRN may be obtained from the Attorney General of
the State of New Jersey by calling 973-504-6215. Registration with the Attorney General does not imply endorsement. You may view the most recent expenditure
report filed with the New Jersey Division of Consumer Affairs, Directory of Registered Charities at http://www.njconsumeraffairs.gov/charity/chardir.htm (enter "NJ
Schnauzer Rescue" (without the quotation marks) in the search box). Registration with the Commonwealth of Pennsylvania, Department of State, can be found at
http://web.dos.state.pa.us/cgi-bin/Charities/char_form.cgi (enter "Fanwood" (without the quotation marks) in the city search box).