FAQS ON ADOPTION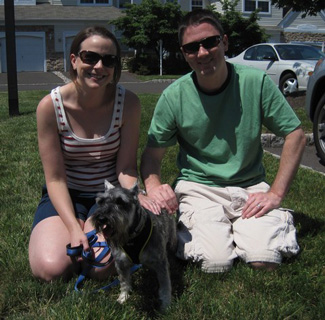 I would like to see your dogs. Where are you located and what are your hours?
OR
I'll be in Fanwood next week and want to stop by. Where are you located?
Fanwood is our official mailing address, but we are NOT a shelter, and we have no adoption facility. We are a rescue network, and our dogs are fostered by our members, our Schnauzer Sitter (aka foster home) volunteers, and - when necessary - in kennels. After you have submitted a complete adoption application, and if you are seriously interested in a adopting a specific dog, please contact that dog's champion (the contact listed in the dog's write-up). If it appears that your home would be a good match, the champion may decide to schedule an appointment at or near the foster home for you to meet the dog you are interested in adopting.

I completed an application three days ago. When will I hear something?
There is no "magic formula" for determining how quickly you will be identified as a match for one of our dogs. The timing depends entirely on the type of dog you are interested in and the dogs currently in our care. The more flexible you are in the preferences you list on the application, the easier it is to match a dog to your family.

Although we're a small volunteer organization, NJSRN works to remain in contact with potential adopters. One of our members will e-mail you when your references have been completed and shared with the group. If you haven't been contacted about a potential match, you'll receive another e-mail in about 5-6 weeks and, if you're still on our waiting list, you'll receive another follow-up e-mail a few months later. Don't be discouraged if the process takes a little longer than you would like - the wait is definitely worth it!

I am looking for a puppy. How soon can I get one?
NJSRN rarely gets puppies in rescue. If you understand the commitment required when adopting a puppy - house-training, crate-training, obedience training, socialization, teaching appropriate chewing, etc. - and you are interested in adopting only a puppy, please e-mail Nadine at seals@exit109.com for referrals to a reputable breeder.

I can get a puppy from a pet store/through a newspaper ad for $xxx. Why should I adopt an older dog from NJSRN?
Simply put, purchasing from a pet store or newspaper ad continues to put money in the pockets of sub-standard breeders who care little about the Miniature Schnauzer breed or the dogs they produce. In spite of what a salesperson in a pet store may tell you, their dogs do not come from reputable breeders. In fact, selling a dog through a pet store or other broker is a violation of the national breed club's Code of Ethics. (This is true for all purebred dogs, not just Miniature Schnauzers.)

Since they can't purchase their dogs from reputable or responsible breeders, pet stores must purchase their dogs from sub-standard breeders, including puppy mills, brokers for puppy mills, and backyard breeders. Sub-standard breeders will also advertise dogs for sale in newspapers - reputable breeders do not (they don't need to!). Reputable and responsible breeders assume responsibility for the dogs they produce and NEVER sell them to pet stores.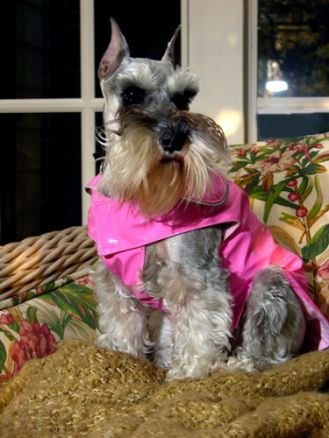 For those who know dogs, the differences between reputable breeders and sub-standard breeders is obvious. Dogs from sub-standard breeders are typically unsocialized, come with temperament and health problems, often come from questionable lineage, and may be marketed as "rare" colors (parti, merle, and liver, to name a few) or as "designer," "toy," or "micro" Schnauzers. Reputable breeders are interested in promoting the strength of the breed and take great care to screen out potential health problems. The "bargain" dog from a pet store/newspaper ad will likely come with significantly higher medical and training costs during its lifetime.

Why do I have to pay an adoption fee? OR
Why are my local shelter's fees so much lower than rescue's fees?
Adoption fees are donations to New Jersey Schnauzer Rescue Network, not payment for value received, and are based primarily on the age, health, and temperament of a particular dog and our expenses. Please understand, NJSRN is not a shelter, and we are not subsidized - most shelters receive municipal funding, while NJSRN operates entirely on adoption fees and donations. All of our members are volunteers, and none of us receives a salary or payment of any kind. Every dollar we generate through donations or adoption fees goes toward the care of our dogs - primarily for veterinary expenses, plus a small amount for grooming, boarding, and occasional shelter fees. Volunteers usually pay the costs for transport, fostering, dog food, phone calls, postage, printing, and adoption screening out of their own pockets.

What are your adoption fees?
Generally the required donations for our senior and special needs dogs are lower, while the adoption fees for our younger and healthier rescues are higher. Adoption donations typically range from $50 - $550, with the rare puppy we get in requiring a slightly higher donation of $600 - $700:
Age 10+ years: $50 - $150
Age 8 - 9 years: $150 - $250
Age 5 - 7 years: $250 - $350
Age 3 - 4 years: $350 - $450
Age 1 - 2 years: $400 - $550
The adoption fee for all puppies is $600 - $700. In some cases the puppy may be too young to fix, and there will be an additional $100 refundable spay/neuter deposit, which will be returned upon veterinary documentation of altering.

We have a special "Senior for Seniors" program, in which the adoption fee is waived for a senior citizen adopting a senior Schnauzer.

The adoption donations listed above represent the typical ranges. Occasionally, dogs may have slightly higher adoption fees than the price range listed, depending on circumstances and our expenses. Please feel free to ask about the specific donation required for a dog of interest. All dogs adopted from NJSRN receive the following:
veterinary examination;
spay/neuter;
DA2PPv and Rabies vaccinations;
treatment for worms and intestinal parasites;
4DX test;
dental cleaning and extractions, if needed;
urinalysis to detect potential urinary tract infections and bladder stones; and
bloodwork, if necessary.
If the dog has any other medical needs, they also will be addressed. We will have the dog microchipped and it will be groomed or shaved down if its coat is very matted. The dog will also be evaluated for temperament and a determination of the type of home that is best suited for its needs. The average cost to NJSRN for all of these services is more than $450!!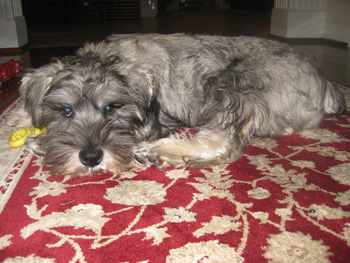 Top: Colors on adoption day.
Middle: Cameo strikes a pose for the camera.
Bottom: Penny Lane grew up to be a beautiful dog! She is one of the dogs NJSRN rescued from a breeder in Maryland who was referred to us by the American Miniature Schnauzer Club's former rescue chair.