FINDING A LOST DOG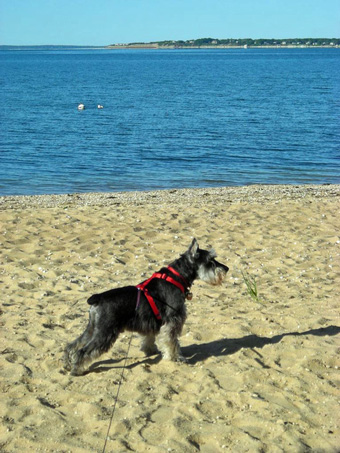 Below is a list of sites where people can post information on lost dogs. Many of these also include useful tips and information. If the lost dog is a purebred dog, the owner should also contact local dog training clubs, kennel clubs, and breed-specific rescue groups – they will often post missing dog information to their members and might also be able to get some volunteers to help in any search. If you know someone who does videos, ask them to post something on YouTube – you never know where a lead might come from.
http://www.craigslist.com
http://www.freepetchipregistry.com
http://www.fidofinder.com
http://www.findtoto.com
http://www.lostandfound.com
http://www.lostmypet.com
http://www.missingpetpartnership.org (lots of good information here)
http://www.missingpets.com
http://www.pet-detective.com
http://www.petamberalert.com

Left: Champ and his family know that a good harness and leash are required beach attire for Miniature Schnauzers!